Dear Colleagues,
Nostalgia mixes with grief as I look at this picture of my wife and I in 2015, the day the US Supreme Court (SCOTUS) recognized the rights of couples like us to marry. At the time, I was sure the country was finally on the path to freedom and justice for all.
As I reflect on that day in the wake of all that is happening now in the United States, I am reminded of how tender freedom is and how easily those in power can justify – even celebrate – its loss.
This picture also heightens my determination. No country should allow human rights to be bestowed through a patchwork of local and state laws and minority rule. No one should ever have to endure complicated legal hurdles, expense, and humiliation to access their human rights. And no one should be forced to rely on the kindness of strangers at one of the most personal, private, times in their life.
I shared last week in Oprah Daily what it looks like when bias and bigotry are allowed to determine access to bodily autonomy. I hope sharing my story will help you understand why I am a champion for the work you do every day. Thank you for your determination to keep moving forward, and to keep fighting for the rights of all people across the globe.
Yours in solidarity,
Elizabeth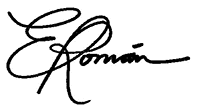 Elizabeth Barajas-Román
Women's Funding Network
President & CEO